How much do I love a twisted fairy tale? A LOT.
Disney is releasing retellings of three of my most beloved fairy tales: Aladdin (A Whole New World), Little Red Riding Hood (Once Upon a Time: Red's Untold Tale), and Frozen (A Frozen Heart). Today I've got the down-low on A Whole New World by Liz Braswell (in stores now), plus an opportunity to win a copy of the book and some fantastic extras!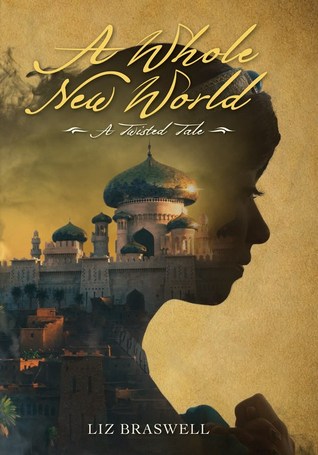 What if Aladdin had never found the lamp? This first book in the A Twisted Tale line will explore a dark and daring version of Disney's Aladdin. When Jafar steals the Genie's lamp, he uses his first two wishes to become sultan and the most powerful sorcerer in the world. Agrabah lives in fear, waiting for his third and final wish. To stop the power-mad ruler, Aladdin and the deposed princess Jasmine must unite the people of Agrabah in rebellion. But soon their fight for freedom threatens to tear the kingdom apart in a costly civil war. What happens next? A Street Rat becomes a leader. A princess becomes a revolutionary. And readers will never look at the story of Aladdin in the same way again.
Such a cool concept, right?!
Interested in checking out A Whole New World?
Enter to win a hardcover and lots of cool extras…
Details –> One winner will receive: a copy of A Whole New World, plus a FAIRY TALE 2.0 tank, notepad, cosmetic pouch, and pillow. Giveaway will run through Friday, September 25th. The winner will be announced Monday, September 28th. Open to those in the U.S. only — apologies, international readers!
TO ENTER:
Leave a comment on this post telling me about your favorite character from the Aladdin movie OR about a fairy tale you'd like to see given a twisted reimagining.
For an additional entry, tweet about the giveaway, including my Twitter handle (

@

KatyUpperman) and the hashtag #FairyTale2pt0.
LEARN MORE…
Learn more on un-requiredreading.com
Follow Disney on Twitter
#FairyTale2pt0
Fine print: Disney-Hyperion provided me with a copy of A Whole New World, and will also provide the giveaway prizes. 🙂