Check the end of this post for details on a giveaway of Violent Ends.
{As always, cover images link to Goodreads pages.}
Marrow by Tarryn Fisher – Oh, look — another Tarryn Fisher novel for me to rave incoherently about. Once again, I'm not going to tell you anything about its plot, expect this: it reminds me a little of Dexter and a little of that Charlize Theron movie Monster, and it's a total freaking trip. Like, seriously — even after reading Marrow's conclusion, I wasn't sure what was real and what wasn't, and I didn't even care because the story was so visceral and the writing was so gorgeous, I was completely moved by the lives I'd immersed myself in. Margo is a fascinating character, but she's a sad character. Her life is full of darkness, until she meets Judah and begins an intense friendship with him. Judah becomes Margo's light, but their relationship is far from traditional, and Margo's life is far from easy. She endures a violent and upsetting journey throughout the course of the story; the brave, resilient woman she becomes is vastly different from the hopeless teenager who opens the book. Marrow made me think. It made me wonder. And most importantly, it made me feel. Recommend if you're into dark books full of philosophical questions and profound themes. (Also, not a must, but I suggest reading Tarryn Fisher's Mud Vein before Marrow. There are definitely some links.)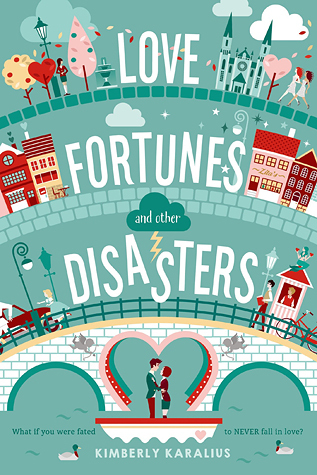 Love Fortunes and Other Disasters by Kimberly Karalius – This debut is cute, cute, cute! Its cover reflects its whimsy perfectly, and reading it was such a joy. Its themes of destiny and fated love remind me of that old Marisa Tomei/Robert Downey Jr. movie Only You, which I've adored for ages. The romance in Love Fortunes and Other Disasters feels inevitable, but somehow still wonderous, and the chemistry between MC Fallon (who's smart and idyllic and easy to root for) and the boy who catches her eye is slow to build and totally believable. I loved the setting of Love Fortunes and Other Disasters. Grimbaud is fanciful and fun, and I'd absolutely travel there given the opportunity; it reads like an enchanted European village. I love, too, Kimberly Karalius's 3rd person narration, which I don't see a lot of in YA. It works so well in this magically realistic novel. I definitely recommend this charming story, but maybe hold off on reading it until Valentine's Day. ❤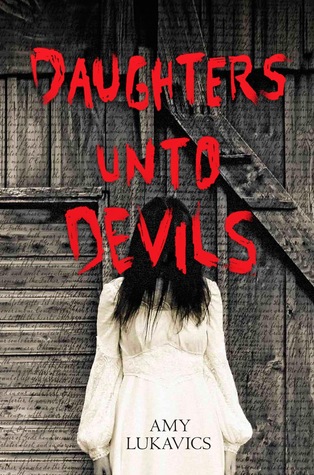 Daughters Unto Devils by Amy Lukavics – Yikes. Let me start out by saying that while I love horror stories, they don't generally scare me. I can watch The Exorcist before bed and sleep just fine. But Daughters Unto Devils freaked me out. Part of it's the story's setting. It's so remote. Think Little House on the Prairie, when Laura and her family first arrive on the plains and are forced to exist all on their own. Only, throw in visions of the devil, unwanted pregnancy, some seriously unnerving neighbors, and a cabin that looks like it's scene a massacre. Intrigued? Daughters Unto Devils protagonist Amanda Verner is such a compelling character. The story opens with her "laying" with the post boy, an act which is unquestionably against her family's religion and moral code, yet Amanda is unapologetic, which immediately endeared me to her. She's not always easy to like, though — she wishes her little sister dead, and prays to lose the baby growing inside her. She's also having visions and hearing strange sounds, reasons to question her sanity and reliableness as an narrator. Still, she's strong and spirited and smart, and by the story's end (when lives were literally on the line) I was firmly on her side. Daughters Unto Devils is not for the weak of heart. It's classic horror, and there are some supremely disturbing scenes, but it's skillfully written and incredibly entertaining. An impressive debut!
Violent Ends by Shaun David Hutchinson and sixteen other YA authors – I bought this book, about the before, during, and after of a high school shooting, because I was curious (and maybe a little doubtful) about whether or not the many different narrative voices/character perspectives would come together. After reading and processing, all I can say is WOW. What a heartbreaking, poignant, powerful story. It's SO well done — chill-inducing in many instances. The characters (victims, bystanders, the gun itself) are skillfully drawn and complex, each extraordinarily unique. The writing is top-notch and, against all odds, flows seamlessly. As I read the final line of each chapter, I thought: Surely the next won't be as good as this, but it always was. Somehow, seventeen writers (including a few of my favorites: Courtney Summers, Beth Revis, and Trish Doller) came together to create a cohesive glimpse into the life of Kirby Matheson, a boy-turned-mass murderer. Somehow, they made him more than his act. Though Kirby didn't earn my sympathy (how could he possibly?), he earned my regard, my consideration, my reflection. And his victims, those who died and those who were irrevocably impacted by the shooting, will continue to haunt me. I believe so whole-heartedly in the quality and importance of Violent Ends, I'm going to give a copy away. Anyone who leaves a comment on this post will be entered in a random drawing. I'll choose the winner in one week, November 6th. Giveaway is open to anyone with a mailing address that The Book Depository will ship to. And if you don't win? You should run out and buy this book immediately.
Tell me… What's the best book you read in October?