What an incredible month of books!
Note… The number of novels I'm able to read has doubled since I started listening to audiobooks via OverDrive. I highly recommend it, especially if you're someone who doesn't have a lot time to sit down with a physical book. I listen when I'm driving, putting on makeup, folding laundry, walking the dog, whatever. Makes the mundane much more interesting. 🙂
(As always, covers lead to Goodreads pages.)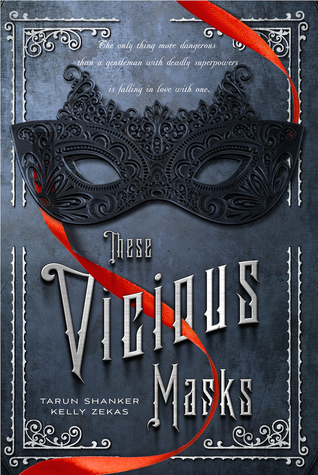 These Vicious Masks by Tarun Shanker and Kelly Zekas – This book is so much fun — like, I was literally grinning throughout the better part of it. It's Austen-esque, but with characters who have special abilities, sort of like X-Men, an element that gives this novel an extra layer of awesome. Protagonist Evelyn is dry and witty, especially regarding the societal norms of her Victorian world. She's not interested in balls or fancy dresses or marriage, and she balks with the best sort of snark. When Evelyn's sister, Rose, goes missing, she knows she hasn't run off on her own, and she makes sacrifices to find her even when no one else shows much concern. I love Evelyn for her intelligence and determination; she's no damsel, and she faces problems head-on, using her cleverness to solve them. There's some love triangle potential in this story, seeing Evelyn's interactions with Mr. Kent and Mr. Braddock (who I'm totally swooning for) and I'm very curious to see how these relationships play out in the next installment. If you're looking for a spirited read with a heroine you'll root for immediately, be sure to check out These Vicious Masks.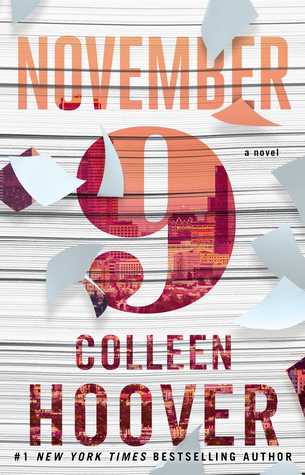 November 9 by Colleen Hoover – This book was guilty-pleasure entertaining. I didn't enjoy it as much as Colleen Hoover's Maybe Someday, but November 9 definitely kept me absorbed. It's the story of two eighteen-year-olds, Fallon and Ben, who meet on — you guessed it — November 9th, and feel an immediate connection. Alas, it's not a good time for either to be in a relationship, so they agree to meet every November 9th for the next five years, while avoiding all contact otherwise. Fallon will work on overcoming self-esteem issues stemming from a disfiguring accident, and Ben will work on a manuscript inspired by their arrangement. Cool premise, right? And it totally works. November 9's pacing is crazy-fast, and there are plenty of sweet/romantic/steamy moments between Fallon and Ben. There are some pretty excellent surprises, too. The only thing I didn't love about this new adult novel were specific (possibly nit-picky) aspects of Fallon's and Ben's personalities. She's rather melodramatic, and he's got a savior complex that occasionally rubbed me the wrong way. Neither of these character traits kept me from being charmed by the story, though. If you're a new adult fan, I bet you'll like it, too.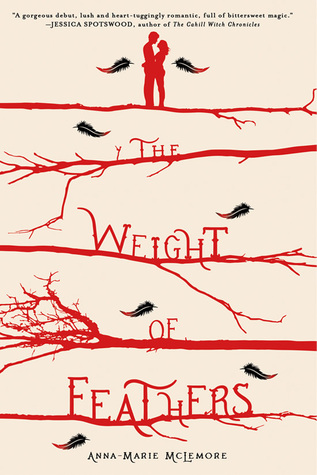 The Weight of Feathers by Anna-Marie McLemore – I am obsessed with this book. Every aspect of it speaks to me; it makes me feel things, a lot of things, even now, weeks after reading. These characters, Lace and Cluck and their vast supporting cast, are layered and rich and full of passion. Their relationships are complicated and this novel's stakes are super high. I've seen it described as Romeo and Juliet meets The Night Circus, and I'm onboard with that comparison. Lace's and Cluck's families are traveling performers; the Palomas are swimming mermaids and the Corbeaus are like winged fairies tightrope walking through the trees. The families have been feuding for years and years, but that doesn't keep Lace and Cluck from connecting in this intense, sexy, heart-wrenching way. Their chemistry combined with the many reasons they shouldn't be together… such perfect, perfect angst. The Weight of Feathers is a magical story with beautiful language and gorgeous imagery and characters so enchanting, they're impossible to forget. I love this novel in the same ways I love books by Jandy Nelson and Jodi Lynn Anderson. Definitely a new favorite.
Becoming Nicole: The Transformation of an American Family by Amy Ellis Nutt – This non-fiction book was fascinating. It centers around the Maines family: Wayne and Kelly, who adopted identical twin boys, Jonas and Wyatt, as infants. As the boys grew, though, it became clear that they were quite different. Wyatt had little interest in "boy" things, preferring The Little Mermaid and feminine clothing, and eventually made it known that he identified as girl. While his family mostly accepted him (Wayne takes much longer than Kelly and Jonas to make peace with Wyatt's differences), he ends up facing varying degrees of intolerance as he makes the slow transition from little boy to young woman. Author Amy Ellis Nutt focuses most of her narrative on the Maines family, but she discusses gender identity in detail, too, providing scientific evidence and alternate experiences alongside Nicole's story. My favorite parts of this book were the glimpses into Nicole's mindset through her journal entries and poetry, as well as Jonas's perspective on their unique experiences. The twins' love for each other throughout the many challenges presented by Nicole's transition feels profound, and the family's unexpected venture into activism is inspiring. A timely and affecting read.
The Boy Who Drew Monsters by Keith Donohue – Far from my usual fare, I listened to The Boy Who Drew Monsters and found it gripping. The setting (coastal Maine during a harsh winter) was perfectly drawn, as were the underlying chords of something is very wrong here. I hated pretty much all of this novel's characters, especially Tim, the father, who's a complete asshole; I suspect that's by design, though, and the way this book kept me on the edge of my seat makes up for its mostly despicable cast. I did enjoy Jack Peter, an apparently agoraphobic boy on the autism spectrum. He draws monster after monster, watching the world from the windows of his family's beach house and occasionally playing with Nick, the only friend who hasn't given up on him. Jack Peter is appropriately creepy, but with an innocence that kept me guessing. The Boy Who Drew Monsters is a legit horror novel, and it boasts some truly frightening moments. And the end? I totally got the shivers.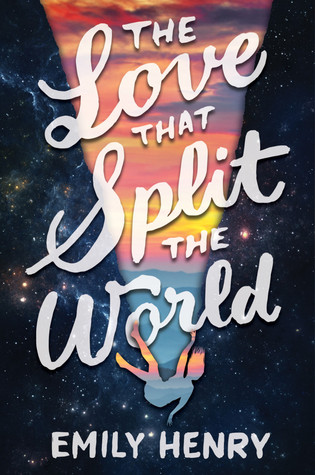 The Love That Split the World by Emily Henry – I love this book. Along with The Weight of Feathers, it's a new all-time favorite. There've been many stories that I've deeply enjoyed, but almost always, I'm able to step back and look at the work from a thoughtfully critical standpoint. No book is perfect, right? But as far as I'm concerned, The Love That Split the World is as close as close can get. It's beautiful, enormously emotional, and despite its *SPOILER* parallel universe/time travel elements, it feels incredibly tangible. Natalie Cleary is a remarkable narrator. She's dealing with plenty: a complicated break-up, a best friend who's moving away (I adore Megan), nerves regarding her acceptance into Brown and pending move to Rhode Island, and the conflicted feelings that've come with being an American Indian adopted into a white family. On top of all that, Natalie's had a lifetime of nightmares and visions and strange lapses in time. Then she meets Beau who is, frankly, everything I've ever wanted in a Book Boy. He's gorgeous and sweet, he plays football and piano, he has this charming drawl (fine = fahn), and, most importantly, he's adorable with Natalie. I suspect that your enjoyment of this novel will hinge on whether you buy into Natalie and Beau's intense relationship, and I absolutely do. Without saying too much about The Love That Split the World's plot, I will mention that it's multi-layered and wonderfully imaginative and, regardless of some carefully placed exposition, it moves fast. Debut author Emily Henry's prose is stunning in its evocativeness, and the characters she's created have claimed a place in my heart. From its first chapter, I could not put this book down. Recommend!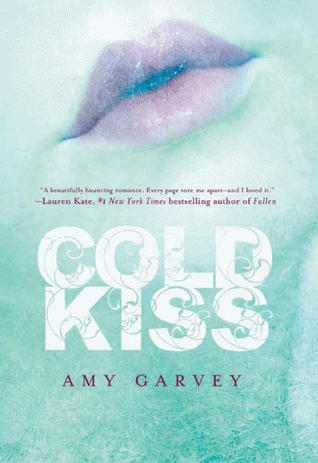 Cold Kiss by Amy Garvey – I've owned this book for ages, but for whatever reason, I only just felt compelled to pick it up. Cold Kiss falls into the paranormal romance category — in fact, it's a zombie book — but more than that, it's a story about grief. Wren's lost her boyfriend, Danny, in a tragic car accident and she's so overcome by sadness, she casts a spell to bring him back. But the boy who appears in the cemetery after Wren's incantation isn't the warm, funny Danny she remembers. This Danny is cold and needy, and he lacks a heartbeat (though, he's not a shuffling, brain-eating zombie — he's a romanticized version of the undead). Wren knows she's made a mistake, but she doesn't know how to deal with her corpse of a boyfriend, or her lingering sadness, until she meets compassionate Gabriel, who she has more in common with than she could've guessed. I love Amy Garvey's writing; Wren's voice is lovely and lyrical, and her sorrow is palpable. I love, too, the way this novel concludes. It's the first in a duology, but it ties the most important threads in a way that's bittersweet yet satisfying. If you're into bewitching prose, or if you're nostalgic for the paranormal YA of five years ago, please do give Cold Kiss a read.
Althea & Oliver by Cristina Moracho – This book is gritty and poignant, and I enjoyed it so much. It's set in the late nineties (a time I refuse to call "historical fiction" because I was a teen in the late nineties) and author Cristina Moracho does an amazing job nailing down the simpler, grungier feel of the decade. Althea and Oliver have been best friends forever, though they're very different. Oliver's chill and effortlessly smart, while Althea is impulsive and fiery. Their friendship works, though, until Althea develops feelings for Oliver, and he begins to suffer from a debilitating sleep disorder, one that knocks him out for weeks, leaving him with no memory of the time that passes. It's during one of these sleep spells that Althea lets something irrevocable happen, changing her relationship with Oliver forever. He decides to leave North Carolina for New York, where he'll participate in a sleep study, leaving Althea alone with her guilt — until she makes the decision to track Oliver down so she can set things right. Althea and Oliver have the most captivating character arcs, and even in their ugliest moments, I found myself hoping they'd triumph. This book is fearless and very smart, and it deals in a lot of gray areas. Its conclusion feels inevitable, an appropriate — though far from perfect — ending for Althea and Oliver.
Tell me: What's the best book you read in February?