January –> The month of extraordinary YA!
Every book I read over the last several weeks was incredible, and I strongly recommend any and all of these young adult novels.
(As always, covers link to Goodreads pages.)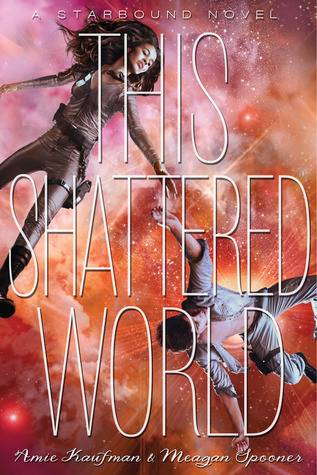 This Shattered World by Amie Kaufman and Meagan Spooner – What an impressive follow-up! These Broken Stars is amazing, and I worried that This Shattered World wouldn't live up to its awesomeness. No need to be concerned — it absolutely does! Flynn and Jubilee (strange name, but it totally fits her) are fantastic protagonists — very different, but equals when it comes to strength and smarts. I love their convoluted push-and-pull dynamic, plus there are some beautifully written steamy moments between them that help to offset their sparring and the overall swampy, violent tone of the story. I also love how intricately plot elements from the first novel in this series are woven into World. Hints of conspiracy and ruthless twists make this book unputdownable. (Plus, there are a few Tarver/Lilac cameos that made me oh-so-happy!)

The Vanishing Season by Jodi Lynn Anderson – This novel is quiet and meandering and virtually plotless, and it's incredible. It's a cold, melancholy, atmospheric book, and Jodi Lynn Anderson's third-person prose is beautiful. Teenager Katy related so completely to MC Maggie (careful, thoughtful, timid), and I so wanted her to get her happily ever after — or at least avoid having her heart crushed. The Vanishing Season centers around a trio of friends with a tangled dynamic. It's set against a wintery backdrop and incorporates a string of small-town murders, plus a lonesome ghost. This novel isn't a murder mystery, though, and it isn't a ghost story, either. It's a character study, and an examination of a thorny, boundary-crossing friendship. It left me heavy-hearted, but glad for the experience.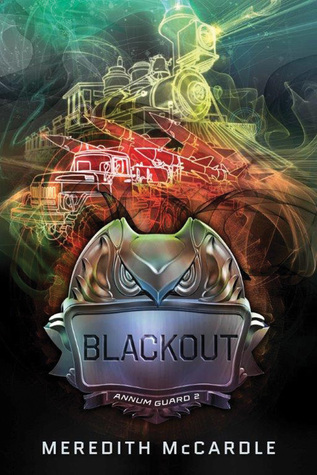 Blackout by Meredith McCardle – I love Blackout even more than its predecessor, The Eight Guardian. It's packed with tension and twists and holy crap! moments, and it's nearly impossible to step away from. Amanda (codename: Iris) continues to travel through time, unraveling mysteries and fighting corruption like the badass she is, but in Blackout we get to see a more vulnerable side of her personality. A big part of her slowly-revealed softer side stems from her boyfriend Abe (codename: Blue). He plays a bigger role in this second installment, and he is adorable — a perfect balance to Amanda's toughness. This is a thrilling story: fast-paced, high-stakes, and full of awesome descriptions of past events. Its characters are riveting, especially because you're never quite sure who you (and Amanda) should trust. And the conclusion… Let's just say you'll be anxiously awaiting Annum Guard #3.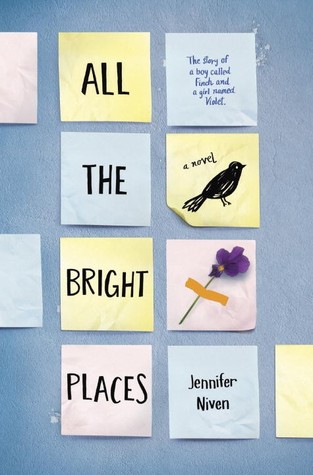 All the Bright Places by Jennifer Niven – This book made my heart hurt, and it made my heart sing. It's been likened to The Fault in Our Stars and Eleanor and Park, comparisons that normally make me roll my eyes because… come on. But honestly, in this case the correlations make sense, and I ended up loving All the Bright Places even more than its comparables. Finch and Violet are complex, fully-realized, and engaging. Both struggle with depression and guilt, and both are varying degrees of broken, which makes them relatable and sympathetic. Their romance is absolutely swoonworthy, but dreadfully messy. All the Bright Places's supporting characters are also compelling; I especially enjoy how present and authentic Violet's parents are. This story is told through dual perspectives, and the narrators' voices are distinct and honest. The tone of the story is intoxicatingly fresh, yet genuinely YA. In my opinion, it's the perfect sort of contemporary: layered and rich and real, with a message that at no point feels like A Message. Highly recommend!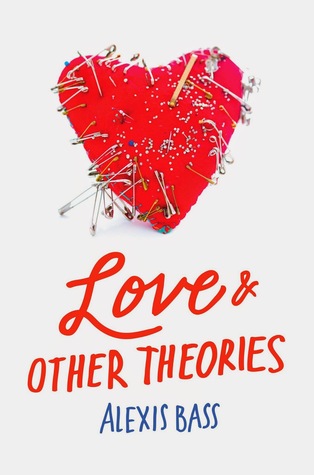 Love & Other Theories by Alexis Bass – This book reminds me a little bit of 17 First Kisses, a little bit of Before I Fall, and a little bit of the movie Mean Girls. And… I love it. I've read a few not-so-favorable reviews of this novel, reviews that knock MC Aubrey and her friends for being mean and shallow and (gasp) slutty. Just… ugh. (Have I mentioned that the "unlikeable teen girl" is one of my most loathed literary gripes?) Admittedly, Aubrey and her BFFs are not perfect. They make some choices that are dangerous and selfish and worrisome and immature, but who hasn't? These girls have reasons for behaving as they do, and it's their unapologetic realness (the good, the bad, and the ugly) that makes me a big fan of this debut. Along with characters who leap of the page, Love & Other Theories brims with earnest romance and unavoidable loss and enviably authentic voice, plus an examination of that pivotal time in high school when you start to become the person you're meant to be — when you feel powerless and confused and you're grappling with identity and life's just hard. Alexis Bass captures it perfectly. (Also, Trip. I adore Trip!)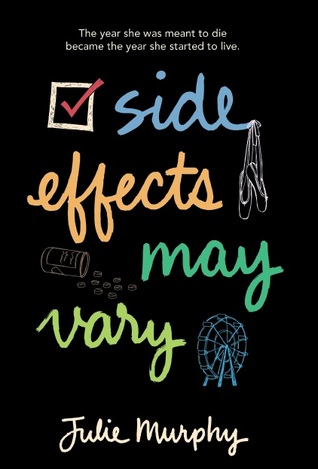 Side Effects May Vary by Julie Murphy – Oh, hey, another "unlikable" teen protagonist… Y'all, MC Alice has cancer. She's in constant pain and her hair's falling out and she's suffering through chemo that doesn't seem to be working. Plus, she's involved in some ugly drama at school, and things with her parents appear to be falling apart. Of course she's angry and selfish and, sometimes, really mean. Of course she's bitter! But, I find her incredibly relatable, too. Under Alice's hard exterior, there's fear and sweetness (the rescued pup!) and a sense of vulnerability that made my heart ache. And then there's Harvey, Alice's longtime friend, who's a freaking doll. I'm so glad he was a co-narrator because he helped soften some of Alice's prickliness, as well shed light onto her more lovable traits. While I enjoyed every page of this novel, my absolute favorite part is its conclusion, which feels realistic, yet very hopeful. Such a strong debut.

Fall For Anything by Courtney Summers – I've now read all of Courtney Summers's published books, and I am officially declaring Fall For Anything my favorite among her extraordinary body of work. This book… It shredded me. It surprised me in ways I didn't know I wanted to be surprised — like, I thought I knew what to expect out of the plot and I would have been perfectly satisfied (happy, even) if it had played out the way I'd anticipated, but then the story took this phenomenal turn, leaving me staggered and gratified and very, very impressed. Eddie is a remarkable character. Her narration is almost stream-of-conscious, and brutally frank. The way her relationships with BFF Milo and mysterious new boy Culler play out is fascinating, but equally compelling are her interactions with her mother and her mother's irksome friend, Beth. The way Eddie reacts to her father's suicide is stark and utterly heartbreaking, but it never makes her feel distant or unsympathetic. Fall For Anything is definitely one to read if you're a fan of sharp, affecting contemporaries.
What's the best book you read in January?