{YA Book Club is headed up by writer/blogger Tracey Neithercott.
For guidelines and additional info, click the image above.}
This month's YA Book Club selection is
Red Queen by Victoria Aveyard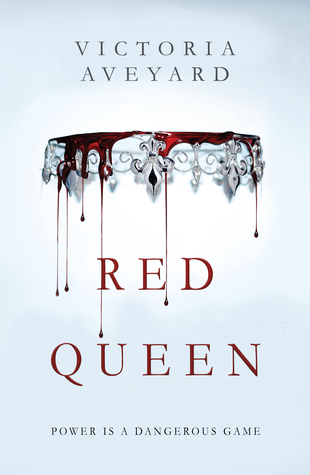 From Goodreads ~ The poverty stricken Reds are commoners, living under the rule of the Silvers, elite warriors with god-like powers. To Mare Barrow, a 17-year-old Red girl from The Stilts, it looks like nothing will ever change. Mare finds herself working in the Silver Palace, at the centre of those she hates the most. She quickly discovers that, despite her red blood, she possesses a deadly power of her own. One that threatens to destroy Silver control. But power is a dangerous game. And in this world divided by blood, who will win?
This was a tough one for me, friends. Red Queen is a good book. It's skillfully-written, well-paced, and full of interesting characters. It's set in a world that felt fresh (though, after finishing, I saw it compared to The Selection and Red Rising, neither of which I've read), and there were plenty of twists I didn't see coming.
Like I said, Red Queen is a good book.
I suspect I might be in the minority here, but… It's not a Katy Book.
I can't even pinpoint what my issue with it is, other than the fact that it simply did not make me feel anything. The characters are engaging enough, but I didn't empathize with them and (forgive me) I didn't care much about what happened to them. For me, there's too much going on in Red Queen. The social tiers, the Silvers (with literal silver blood) and Reds (who've got red blood, obvs), the X-Men-like magical powers, the war-torn dystopian setting, the oddly set-up romantic entanglements, the family strife, the resistance… It was a lot for me to take in, and a lot to attempt to latch onto.
When I bought this book, I took my cue from its cover and its title. I was expecting fantasy, but what I got was rather jumbled dystopian/fantasy fusion. Admittedly, I'm sort of over dystopian, and when it comes to fantasy, I like my stories dark and gritty and super intense. Think The Winner's Curse and Graceling and Finnikin of the Rock. I like touches of magic, and I like an organic, slow-burn romance. I prefer MCs who are not Chosen Ones. Red Queen's MC, Mare, is definitely a Chosen One (though, I've gotta say, she handled the crazy turn of events with grace). Additionally, her story (particularly the romantic aspects) was just too light for me. Mare's voice can be humorous, sarcastic at times, which is probably a good thing for other readers — she truly is amusing in certain scenes — but the overall tone of the story was not my taste.
I can certainly see Red Queen's merits, and I understand why it's garnered the buzz it has. I've decided to drop my gently-read copy during next month's Rock the Drop because I'd love to see it find its way into the hands of a teen reader who might fall in love with its positive qualities.
What did you think of this month's YA Book Club selection?
(Book Clubbers: Don't forget to drop by Tracey's blog to add your link!)