Guess who did almost zero writing in March? Guess who read 12 books? Guess who's mentally recharged, and ready for another round of revisions and/or the continued drafting of a current WiP?
This girl!
March's books were most excellent.
As always, cover images link to Goodreads pages.
Happy reading!
How to Keep Rolling After a Fall by Karole Cozzo (August, 2016)  – With the exception of the first few pages, I read this book in a day — it was that unputdownable. How to Keep Rolling After a Fall's got everything I look for in contemporary YA romance. It's a perfect mash-up of the thoughtful family dynamic of a Sarah Dessen story, the complex friendships of an Emery Lord novel, and the sexy edginess of a Miranda Kenneally book. Protagonist Nikki, though involved in a terrible cyber bullying incident, is somehow immediately relatable, and becomes quite likable as the story progresses. Part of her charm is due to her interactions with love interest, Pax, who's all sorts of charismatic and swoonworthy. I was rooting for Nikki and Pax from first meeting, and loved watching their relationship unfold. Fans of YA romance, definitely check out How to Keep Rolling After a Fall when it comes out this August.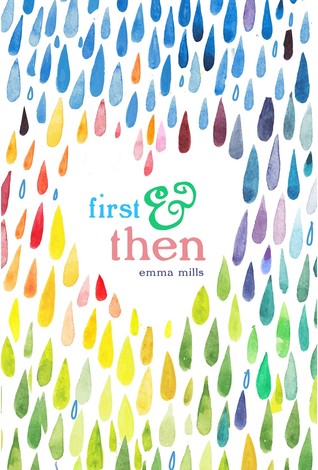 First & Then by Emma Mills – This book made me happy, happy, happy. I loved everything about it: protagonist Devon and her stellar voice, the small town setting, the football backdrop, Foster (oh, Foster — so sweet), the incredibly likable cast of supporting characters, and the will-they-won't-they hints of romance. Devon is the rare MC who's capable of making me laugh out loud — her wit is perfection. She's self-depreciating, but in an endearing Jane Austen sort of way, and while she makes her fair share of blunders, she's so loyal and funny, it's impossible not to be firmly on her side. I love, too, how realistically high school is portrayed in this novel; friend groups overlap, bullies exist alongside nice guys, and relationships bend and occasionally break. I'm a big fan of First & Then, and I can't wait to read more from Emma Mills.
Follow the River by James Alexander Thom – Based on true events, Follow the River is apparently something of an American classic. I enjoyed this tale of Mary Draper Ingles's time as a Shawnee captive, her courageous escape, and her perilous journey home. Follow the River is an intense, graphic story about human spirit written in spare, matter-of-fact prose. My one quibble is that the audiobook, which I listened to, is narrated by a man — an odd choice, as this is a woman's story. He used weird (distracting) falsettos every time Mary, her sister-in-law, and her female companion spoke. Still, the story is fascinating. If you like history and/or survival stories, Follow the River is likely the book for you.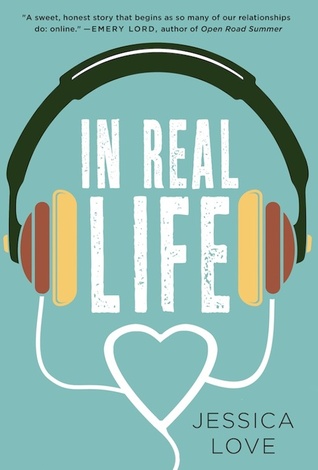 In Real Life by Jessica Love – Oh, how I love this book! It's Catfish set in Vegas, and it so good. Hannah and Nick have been online besties for years and (they think) they know everything about each other. When Hannah surprises Nick with a visit in Sin City, she learns the startling truth: He hasn't been completely forthcoming with her. In Real Life is full of delicious angst, its pacing is fantastic, and its characters, despite their dishonesty with each other and often themselves, are utterly endearing. In Real Life is a whirlwind night in Vegas, full of those often romantic, occasionally awkward moments that make contemporary YA romance so fantastic. It boasts a fair amount of humor, too, thanks to Hannah's outstanding voice, and its final pages… *happy sigh* I was lucky enough to beta read an early draft of this story a few years ago, and even on second read, Hannah and Nick's online and in real life (!) relationship gave me all the feels. You must pick this one up!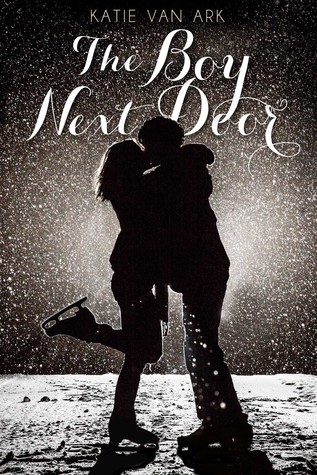 The Boy Next Door by Katie Van Ark – This is a steamy book! I'm a sucker for boy-next-door stories, and even more enticing are books about best-friends-turned-sweethearts. The Boy Next Door is both, plus a peek into competitive pairs figure skating — a world I don't know much about but am fascinated by all the same. This debut is told in alternating point-of-view chapters by protagonists Maddy and Gabe. Maddy is brave and delightfully romantic. Gabe, to be honest, was hard for me to like — at least throughout the story's first half. But! His arc is steep, and by the book's climax, I was Team Gabe all the way. This story is full of drama and butterflies, mixed with plenty of sweet and sexy moments, combined with edge-of-your-seat skating competitions that had me flying through chapters. Can't wait to see what Katie Van Ark comes up with next!
The Devil and the Bluebird by Jennifer Mason-Black (May, 2016) – This novel's evocative prose blew me away, as did its meandering, folktale-inspired plot. Jennifer Mason-Black's style is lyrical and fantastical — perfect for this bewitching story. Main character Blue has made a deal with the devil; she's traded her voice for help in finding her missing sister, Cass. Blue begins her journey with a pair of magic boots, her dead mother's guitar, and heart full of grief, and along the way, she meets a host of eclectic characters who help her discover who she really is. This is a unique, moody story and though it was mostly lacking in romance, I was enchanted.

Love in B Minor by Elodie Nowodazkij – First of all, how great is this story's title?! Love in B Minor is a juicy, guilty pleasure read with powerfully written musical and dance sequences, a gorgeous Parisian setting, and main characters, Lucas and Jen, who've got chemistry for days. Though this novel is part of the Broken Dreams series, it falls more into the NA category than YA, and can be read as a standalone. It's an intense, emotional story with three distinct strengths. First, its romance, which is full of sparks. Second, its diverse cast of characters, who have backstories that are layered and, often, haunting. And third, its conclusion, which is a surprising  and exciting deviation from the other Broken Dreams books. Pick up Love in B Minor if you're looking for a read with scandal and heat and characters who'll stay with you long after The End.

Ruby Red by Kerstin Gier – I went into this audiobook expecting a somber fantasy (I guess because of its cover?), but I got a fun, voice-y time travel story. Ruby Red was a bit of a slow start for me — there are a lot of characters and some extensive backstory to get ahold of — but once Gwyneth makes her first planned time travel journey with enigmatic Gideon, the action really picks up. There's a mystery at the center of Ruby Red, one with high stakes and real-life history and a secret time travel society woven in, and it's quite compelling. I enjoyed Gwyneth's innocent nature and amusing inner monologue, and thanks to a stellar set-up at this novel's conclusion, I'm super curious to find out what happens in this trilogy's next book, Sapphire Blue.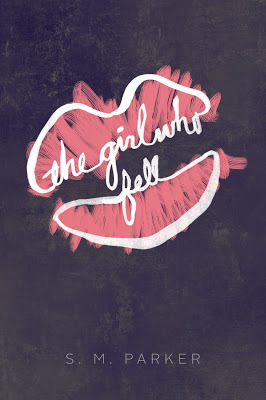 The Girl Who Fell by Shannon Parker – My version of a horror novel, basically. Zephyr's a field-hockey-playing senior whose dad has recently abandoned her family, and she's struggling with the transitional time that is the end of high school. She's not super experienced, romance-wise, when she meets new boy Alec, and she's immediately swept away by his apparent charm. Turns out Alec's got some serious issues, which manifest in his manipulation and eventual abuse of Zephyr. Remember that 90s movie Fear with Mark Wahlberg and Reese Witherspoon? The Girl Who Fell is similar in a lot of ways. I found it hard to put down, and I have a lot of thoughts even now, a week after reading. There were times when I wanted Zephyr to wake up — she's a smart girl with goals and drive, yet she made some decisions that were clearly ill advised when it came to "spending time" with Alec, as well as her future. That said, I found her behavior to be realistic to her circumstances. Thank God for BFF Lizzie who, save an occasional chivalrous act from hot-and-cold hockey stud Gregg, was this novel's singular voice of reason. I found myself applauding her constantly. The Girl Who Fell is a strong debut, a novel that's both important and engaging.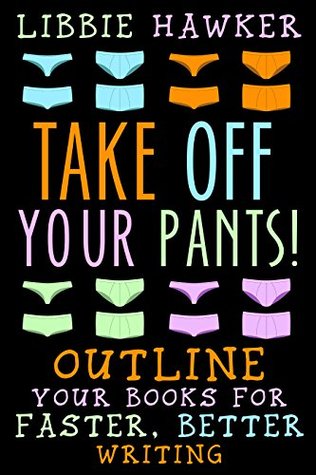 Take Off Your Pants by Libbie Hawker – This craft book is clear, concise, and eye-opening. Basic premise: Outline your novel using your main character's flaw as a jumping off point and central focus, since "story" is all about a protagonist's emotional journey. So smart, right? With the exception of Save the Cat, Take Off Your Pants is the most helpful "how to write" book I've read. I had so many duh moments, and took tons of notes. It's a quick read with straight-forward, easily applicable suggestions that just make sense. Libbie Hawker's advice applies to all fiction, from picture books to literary tomes. Big recommend if you're working on honing your plotting skills, like me.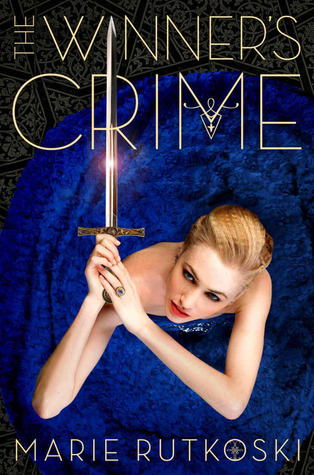 The Winner's Crime by Marie Rutkoski — A reread because this trilogy's final book, The Winner's Kiss, came out on the 29th and I read it in 24 hours and just — aaahhhh! My review of The Winner's Crime (from last spring) still stands. Find it HERE. And scroll down for my thoughts on The Winner's Kiss.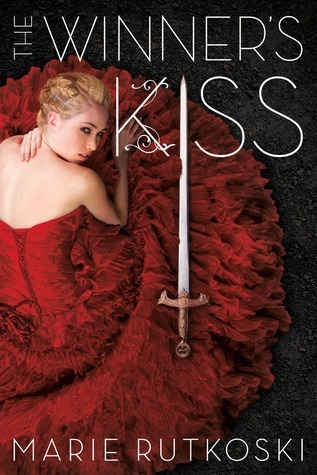 The Winner's Kiss by Marie Rutkoski – First of all, how happy are we that Macmillan decided to stick with this gorgeous cover treatment? I'm thrilled that my trilogy matches; it looks so beautiful on my shelf! My thoughts on The Winner's Kiss are about to become a rambling mess, and they're riddled with series spoilers, so I'm going to post in white. Please do highlight to continue reading, but you've been warned: spoilers ahead! –> I loved everything about this final book. Everything. I'd change literally nothing. It's a beautifully written story full of emotion and fraught with tension. I'm so pleased that Arin and Kestrel spend most of Kiss together, learning to cooperate, trust, and love each other in new and deep and meaningful ways. I'm a big fan of how the prison rescue plays out and after, when Arin reminds Kestrel that she bought him and she asks if she still owns him and he says, "Yes." Guys, my heart. I had legitimate physical reactions to this story — all of it, but particularly that scene on the tundra. Also, the scene where they finally seal the deal. ❤ I love the resolute strength we've continued to see in our two protagonists, but more than that, I love how their weaknesses are presented in this final book, and how they come to terms with those weaknesses and learn to lean on each other, to fill the voids in each other's hearts. I love Kestrel's complicated relationship with her father, and Arin's dealings with the General in the final battle scene. Incidentally, I enjoyed all of the battles scenes (I often find myself skimming anything that has to do with actual combat), for they are fast-paced and intense, full of the scheming and out-maneuvering I've come to expect from Kestrel and Arin. More than that, the war plays such an important role in this book's plot, and Marie Rutkoski gives it the weight it deserves. Additionally, I love how elements from the first and second books come into play in this final novel — Bite and Sting in particular. I love Roshar for his spirit and his comic relief, and I love Sarsine for her kindness and quiet wisdom. And I love how this story concludes a series I've been invested in for the last two years — so elegantly, and so satisfyingly: Arin and Kestrel, an equal, loving pair with a true future ahead of them. <– Even if you're a reluctant fantasy reader (like me!), I suggest you at least give the Winner's books a shot. They're breathtaking and affecting and intensely entertaining, and I think you'll be won over.
So? What's the best book you read in March?