Seven books read in May. Thirty-two books read in 2016.
As always, covers link to Goodreads pages.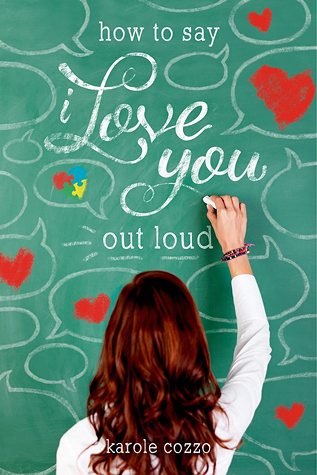 How to Say I love You Out Loud by Karole Cozzo – I was charmed by this story of family and first love and fitting in. Main character Jordyn is so complex. Her home life is tricky because her younger brother, Phillip, falls at the severe end of the Autism spectrum, and her parents spend most of their time and energy accommodating him. Jordyn often feels left out and overlooked, and as a result, she's not Phillip's biggest fan. At times, Jordyn's hard to like, but that's because she's real. She's not always kind to her brother, and she experiences moments of selfishness and resentment, but don't worry — her arc is steep. I love that Jordyn has to learn how to say eff it, and I love that she discovers ways to appreciate her brother for who he is, and I especially love the way her romance with adorable and altruistic Alex pans out. Karole Cozzo's prose is simultaneously concise and emotive, and she writes amazing kissing scenes. I recommend How to Say I Love You Out Loud for fans of family-focused and romantic contemporary YA.
The Year We Fell Apart by Emily Martin – Another contemporary YA with a main character who's so authentic and so flawed, she often comes across as prickly. Throughout the course of this story, Harper makes some big mistakes, and I found myself cringing more than once. Author Emily Martin's done an interesting thing here, gender swapping the Good Girl/Bad Boy trope. Harper drinks and hooks up and acts out when she's feeling overwhelmed, while her first love and current ex, Declan (who I'm smitten with), is careful and considerate and responsible — until he's not. I think this is a unique take on contemporary YA romance, and the flip definitely kept me engaged. My favorite thing about The Year We Fell Apart (aside from its incredible romantic tension) is Harper and Declan's friend group, Cory in particular. He's so constant and loyal — exactly the sort of buddy Harper needs to temper the upheaval in her life. I love, too, that climactic scene in the parking lot. My heart was literally pounding. Read this one if you're into romances full of conflict and angst.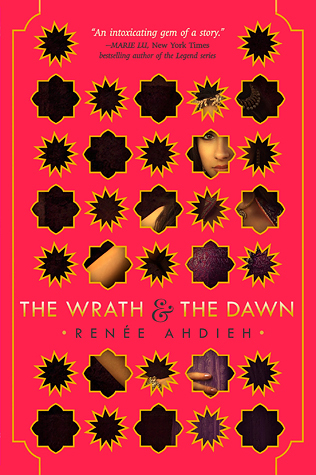 The Wrath & the Dawn by Renee Ahdeih – A reread, this time I listened to the (outstanding) audiobook. The glowing review I wrote last summer is HERE.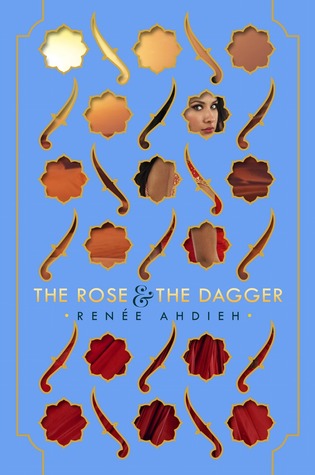 The Rose & the Dagger by Renee Ahdieh – A satisfying end to an incredible duology. As much as I wanted to rush through this book so I could learn the fates of Shazi and Khalid and Tariq and Despina and all of the other characters I've come to love, I made myself savor each page because Renee Ahdieh pens some of the most beautiful prose I've read. Her descriptions are lush, and she has this way of relating her characters' emotions that's just so powerful. I'm a fan of this concluding book for a lot of reasons, most of which have to do with Shahrzad and how utterly badass she is. She never falters in her convictions, though she's not opposed to experimenting with new tactics and accepting help from an eccentric bunch of secondary characters. While I loved every moment she spent with Khalid (that first scene they shared… <3), I was particularly fascinated by her evolving relationships with Tariq and her younger sister, Irsa (who's a badass in her own quiet way). The Rose & the Dagger is full of fantasy (magic carpets, fire manipulators, magic spells, flying serpents) and some stunning twists, but it never gets lost in sensationalism. Its characters are layered and authentic, its relationships are real and often imperfect, and it's grounded in feminism — a most excellent spin on The Arabian Nights: Tales From 1,001 Nights.
In the Unlikely Event by Judy Blume – Honest moment: If this book hadn't been written by Judy Blume, I probably wouldn't have picked it up. It's historical fiction set in Elizabeth, New Jersey, a town where three planes crashed in the space of 58 days in late 1951 and early 1952 (that actually happened). Not subject matter that would normally pique my interest, but I'm so glad I gave this book a read — I thought it was wonderful. Its cast is huge, but a great deal of the story is told through fifteen-year-old Miri's eyes, and she's awesome — a lot like the winsome girls of Judy Blume's earlier MG and YA novels. Miri comes of age during the winter of the plane crashes, partly because of the crashes, and partly because she's dealing with all sorts of normal teenage issues: family strife, first love, and failing friendship. She responds to it all with such genuine sentiment; she feels absolutely real. I love how the fates of the fictional citizens of Elizabeth are woven together, and how each of their paths alters in the wake of the plane crashes. I also love how the early 1950s come to life within the pages of this novel. It's all about the human experience, and it's full of heart. I loved it.
You Don't Know My Name by Kristen Orlando (January, 2017) – I went into this book expecting a fun spy story, but by the novel's end I was tense and torn and totally heartbroken. Seventeen-year-old MC Reagan's parents are Black Angels — super secret spies who go out on dangerous missions and change their identities at a moment's notice. That means Reagan, too, has to pick up and move, often in the middle of the night, leaving her fledging friendships — not to mention a piece of herself– behind. Thanks to a childhood spent training in martial arts and weaponry and foreign languages, Reagan's expected to become a Black Angel herself, but she's questioning her presumed future thanks to her most recent group of friends — cute JROTC cadet Luke, in particular. But when Reagan gets tangled up in one of her parents' missions and is forced to put her training to use, her life changes irrevocably. Author Kristen Orlando does such an amazing job capturing the many facets of Reagan's life, including the sweet romance she and Luke are developing, the anxiety she experiences thanks to her intense lifestyle, her complicated relationship with her parents, and the tragic rescue-mission-gone-wrong in Columbia. Definitely pick You Don't Know My Name up of you're into unflinching novels that'll set your heart racing.
Summer Skin by Kirsty Eagar – THIS BOOK IS SO GOOD! I mean, it's written by an Aussie author so its quality comes as no surprise, but even so, Summer Skin far exceeded my sky-high expectations. It's a college-set story about friendship and love, about learning and growing and changing for the better — even when that's really, really hard. Jess is such an extraordinary MC. She's driven and super smart, she's all sorts of fun, and she takes zero shit. She's comfortable in her skin, but that doesn't mean she's not sometimes awkward and uncertain, She makes mistakes just like the rest of us did in college, which is a big part of why she's so relatable and endearing. Summer Skin is a sexy book in all the obvious ways, but it's the chemistry between Jess and trying-to-reform womanizer Mitch that makes this story sizzle. Between the angst and the humor and the swoon, I found Summer Skin to be unputdownable. Just a note, it's not available in the US, so if you're interested in reading (and you should totally be interested in reading) find it at The Book Depository.
So… What's the best book you read in May?